1. Introduction
Do you already have Google Workspace (formerly G Suite) in your business or are you considering it? If so, you need to read this!
We live in an era of hybrid everywhere – hybrid cars, hybrid plants, hybrid apps, and now hybrid email hosting solutions. The term hybrid refers to mixing two or more, typically to get optimal benefits. Read more about email hybrid solutions here.
In this article, we will discuss how you can get significant cost savings from a hybrid of MailSafi email hosting and Google Workspace (formerly Google G Suite). But before we do, let us first understand why business email hybrids are important, or you can skip right to the cost savings you stand to get.
2. So Why Have a Business Email Hybrid?
Businesses' requirements for email and collaboration are not the same. Even staff within an organization do not all have the same requirements for email and/or collaboration. MailSafi Email comes in different (customizable) plans to cater to varying business and user requirements, making our plans extremely cost-effective.
Some businesses only need a reliable and secure email hosting service to communicate with colleagues, customers and/or other business associates. Others have staff who only communicate with their colleagues within the organization (internal communication).
In other businesses, some users need collaboration and advanced productivity tools to support their operations. This includes tools like video/audio conferencing, online chat, cloud storage to store their documents, access to email and documents on-the-go, and/or document co-editing.
Google Suite/Workspace and Microsoft O365 are no doubt great business email and collaboration solutions; however, most of their plans come bundled up with all these features. Although these are all great-to-have, most businesses soon discover that the majority of their staff only use a small fraction of these capabilities – primarily only email and to some extent cloud storage.
The primary objective of running a business is to make a profit. Making profit demands that you spend wisely and avoid spending (money) on what you do not need. Therefore, buying a one-size-fits-all email solution for your business is wasteful.
MailSafi is an email service provider working with businesses to assess staff use of their business email and collaboration tools. We help your business make the necessary adjustments to minimize costs without compromising on reliability and security. With our different business email plans, we help you group your users according to their specific needs, and you only pay for what each user needs. Cost savings are particularly significant and undeniable for businesses on Google or Microsoft plans.
The next section explains how this works.
3. Hybrid of MailSafi Email hosting + Google Workspace
This is a combination of the power of the cloud where we integrate solutions by two email service providers, MailSafi email hosting + Google Workspace. The power users can be hosted on Google Workspace while other users can be on MailSafi for email only.
3.1 How It Works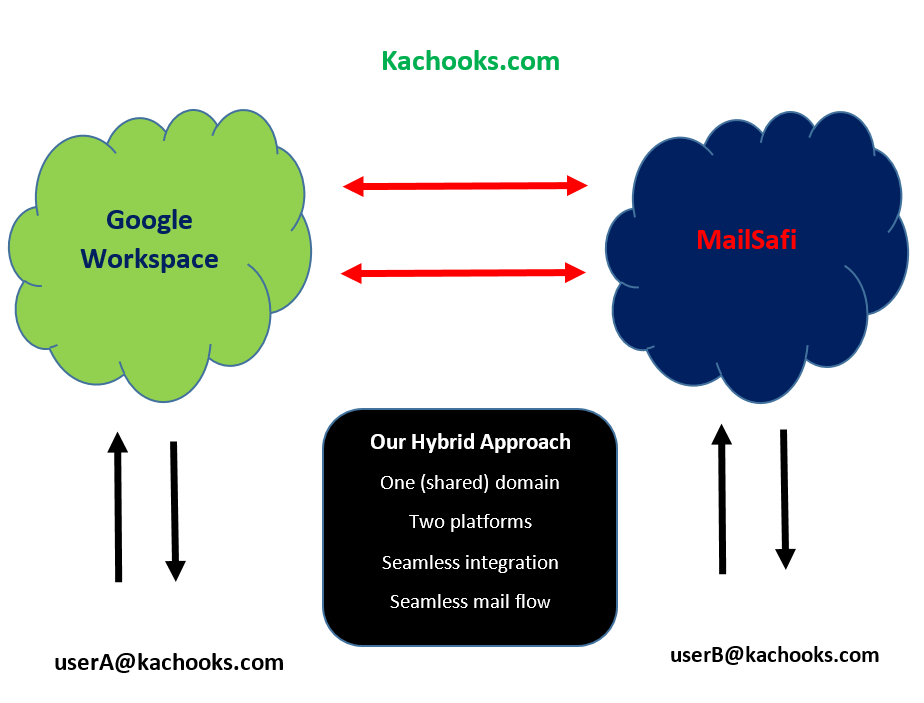 userA@kachooks.com will be able to communicate with users within the Google Workspace plan and also communicate with userB@kachooks.com and other users in the MailSafi plan – and vice versa. The domain is shared between both platforms and the communication is seamless, i.e., because of the shared domain, the segmentation is transparent to the users.
Now, let us first get a better understanding of the two individual cloud services from two different email service providers.
3.2 What is MailSafi Email & Collaboration?
MailSafi Email & Collaboration is designed to enhance communication for businesses by ensuring access to email on all devices, anywhere, anytime. In addition, with MailSafi email hosting, users can also synchronize their calendars and address books. They also get superior threat protection against viruses, malware, and other forms of spam. In short, MailSafi enables you to work on a secure email environment with increased reliability and uptime. Each user gets between 10 – 30 GB of storage space depending on the plan you choose.
There are three MailSafi plans for business email hosting. These are MailSafi Basic, MailSafi Business, and MailSafi Enterprise.
MailSafi Basic is an email-only solution ideal for users with very low storage requirements – up to 10 GB. Our next plan, MailSafi Business, has all the features of MailSafi Basic but with up to 30 GB of storage. MailSafi Enterprise has all the MailSafi Business features plus collaboration features such as video/audio conferencing, online chat, online document storage, file synchronization, file sharing and co-authoring. For more information, you can see the detailed features of all our plans here. Also, you can check out our blog for more about MailSafi collaboration features available in MailSafi Enterprise.
However, for a cost-effective solution that specifically offers Google document management and virtual meeting application, Google Meets, you can sign up for a hybrid cloud email hosting solution that combines MailSafi and Google Workspace. With this hybrid model, you can have the best of both worlds – a reliable solution at a cost-effective price.
It is also possible to have a hybrid of MailSafi Enterprise and Google Workspace to save cost. However, for purposes of this article, we will focus on an example with MailSafi Business + Google Workspace.
3.3 What is Google Workspace?
This is Google's one-stop solution to boost productivity within an organization. Google Workspace has four different plans to choose from. These are Business Starter, Business Standard, Business Plus, and Enterprise.
Google Workspace Plans start from $6 per user per month for Business Starter, $12 per user per month for Business Standard, and $18 per user per month for Business Plus.
While we can offer a hybrid with any of these plans, for optimal cost savings, we propose that businesses consider the Google Workspace Business Starter as it still has sufficient collaboration tools to meet nearly all your business needs. In fact, all Google Workspace plans come with Gmail, Google Drive for storage of files, Google Meet for virtual meetings, Calendar, Chat, Document management software (Google Docs, Sheets, Slides), Keep (for notes), Sites to effortlessly create sites for your teams, Forms (to create surveys and forms) and Currents for employee engagements.
4 Value Proposition of a Hybrid of MailSafi + Google Workspace
A hybrid of MailSafi + Google Workspace gets you the best of both worlds by letting you choose MailSafi for general users and Google Workspace for power users who specifically want Google document management applications, Google Meets for virtual meetings, and more collaboration tools.
Other advantages of this hybrid are:
Best return on investment: There is a clear justification of costs by aligning investment to user needs.
Seamless integration: You will be sharing the same domain name. This means the segmentation between the two groups remains transparent.
Seamless mail flow between the two groups of users.
The true allure of this hybrid is that if you are already using (or considering using) Google Workspace for your core team but would like to reduce your business email hosting cost without compromising on security and reliability, you can still keep the core group of power users on Google Workspace and have the other group of general users on MailSafi email.
A hybrid of MailSafi + Google Workspace offers a very reasonable total cost of ownership – significant cost savings. By using a hybrid of MailSafi Business + Google Workspace, you will optimize for cost without compromising on security and reliability.
5 Cost Comparison
The following table offers a clear picture of the cost-benefit this hybrid will bring to your organization.
Example:
To better understand the cost-saving, let's take an example of Kachooks.com, a local business with 400 users. They have had all of their power users on Google Workspace Business Starter. However, owing to the effects of the COVID-19 pandemic on their business, they have been desperate to cut costs.
Table 1 below shows how much they have been spending.
Table 2 shows what they saved after considering their specific user needs (power and general users) and moving to a hybrid of MailSafi Business + Google Workspace Business Starter.
NB: Although our example below shows MailSafi Business, it is also possible to have a hybrid of MailSafi Basic or MailSafi Enterprise with Google Workspace.
Kachooks.com hosted purely on Google Workspace Business Starter
| | | | |
| --- | --- | --- | --- |
| Plan | No of users | Price per month | Annual cost |
| Google Workspace Business Starter | 400 | $6 | $28,800 |
| Total cost of ownership | | | $28,800 |
Table 1
Kachooks.com hosted on a hybrid of MailSafi Business + Google Workspace Business Starter
| | | | |
| --- | --- | --- | --- |
| Plan | No of users | Price per month | Annual cost |
| Google Workspace Business Starter | 50 | $6 | $3,600 |
| MailSafi Business | 350 | $2 | $8,400 |
| Total cost of ownership | | | $12,000 |
Table 2
By moving to a hybrid of MailSafi Business + Google Workspace Business Starter, Kachooks.com saved an astounding $16,800 (58%) per year! These monies can now be channeled to other core business areas.
Would you like to SAVE BIG like Kachooks.com? Contact us today for more information or to get a quote on how much you stand to save with a hybrid solution.